2022 Women's Conference
Closer than a Sister: How Union with Christ Helps Friendships Flourish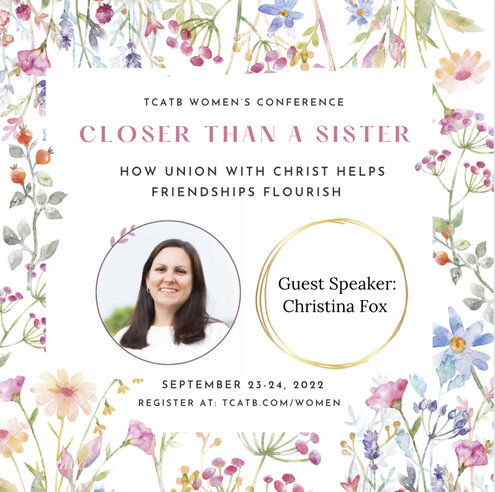 Friendships in the church can be hard to navigate at times. Join us for a weekend conference on Christian sisterhood in the church and how our union with Christ helps us accomplish it for our flourishing.
Christina Fox is a wife, mother, author, speaker, licensed counselor, and women's ministry director at her church in the Atlanta area. She graduated from Covenant College with a degree in Sociology with an emphasis on counseling, and received her Master's Degree in Counseling Psychology from Palm beach Atlantic University. She has served as a board member of Covenant College and coordinated women's ministry in both her local church and on the national level for her denomination (PCA). She has written 8 books, is a contributing author for several Christian blogs, and currently coordinating counseling and crisis care for women in her local church.
IMPORTANT NOTES
This event is free of charge.
Registration Deadline: September 9th, 2022 (Register as an individual or group below)
Dinner will be provided that Friday evening before the first session. If someone has a food allergy, please specify in registration info.
Coffee and lite pastries will be available Saturday morning when the doors open.
Food trucks will be in the parking lot during lunch break Saturday afternoon.
If bringing a group, a small group facilitator will need to be established before arriving and listed in registration.
Childcare will not be provided. Infants and nursing babies are welcome to accompany mothers. A cry room will be available for privacy for nursing.
We do not have blocked off hotel rooms, but here is a list of a few near by hotels:
Hawthorn Suites by Wyndham
7909 Panama City Beach Pkwy, Panama City Beach, 32408
Homewood Suits by Hilton
47 Chip Seal Pkwy, Panama City Beach, 32407
Comfort Suites
225 Richard Jackson Blvd, Panama City Beach, 32407
REGISTER FOR THE TCATB WOMEN'S CONFERENCE