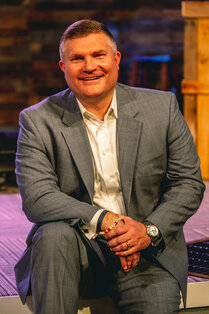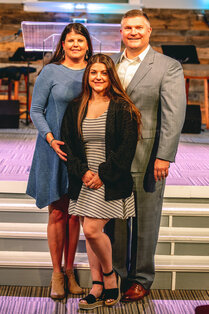 Jay Powell became senior pastor of The Church at the Beach on February 1, 2021. Pastor Jay comes to TCATB after pastoring at First Baptist Church Bayou George for four years. Before leaving to pastor at FBCBG in 2017, Jay and his family were long-time members at TCATB. He taught youth classes, adult classes, was the deacon chairman, and would fill the pulpit when Dr. George was absent. He is not shy about telling people the opportunity to return and pastor the church he served for a long time is a great honor. He and his family love this church!
Pastor Jay and his wife, Kara have been married for 17 years and have two adopted children: Gannon 22 and Jaelynn 17. He earned his bachelor's degree in history from Murray State University. His master's degree in Athletic Administration is from Concordia University-Irvine. He earned post-baccalaureate credit in biblical studies at the Baptist College of Florida, and holds a second master's degree in pastoral ministry from New Orleans Baptist Theological Seminary.
Pastor Jay would love to hear from you. His email address is pastor@tcatb.com or you may call him at 850-234-8892.
"Now therefore fear the Lord and serve him in sincerity and in faithfulness.
Put away the gods that your fathers serviced beyond the River and in
Egypt, and serve the Lord. And if it is evil in your eyes to serve the Lord,
choose this day whom you will serve, whether the gods your fathers served
in the region beyond the River, or the gods of the Amorites in whose land
you dwell. But as for me and my house, we will service the Lord" – Joshua
24: 14-15